Day Skipper Shorebased Course
Day Skipper is a course for aspiring skippers with some yachting experience in basic navigation and sailing skills.
The course offers a comprehensive introduction to navigation, chart work and the basics of seamanship. It can also help you get the best from your electronic equipment. It is a great way to progress your yachting career.
REQUIREMENTS:
This is a course that fully introduces you to chart work, navigation, meteorology and the basics of nautical for competent crews. This course is perfect if you want to learn how to start making decisions on board.
Topics:
1. Nautical terms: parts of the ship and hull, general nautical terminology
2. Rope: knowledge of properties
3. Anchorage: characteristics and considerations to take into account
4. Safety: knowledge of safety equipment, its stowage and use, fire fighting and fire fighting, personal safety, distress signal, rescue procedures.
5. International regulations to prevent collisions at sea: rules of direction, regatta and general rules
6. Definition of position, course and speed: latitude and longitude, terms of navigation, bearings and the knot
7. Navigation charts and publications: graphics, symbols and representation of direction and distance; navigation posts and chart correction
8. Drawing tools for navigation – use of patented parallel rulers, dividers and plotting tools
9. Compass: use, application, deviation and its causes.
10. Chartwork: estimation, estimated position, room for maneuver, visual fixation, satellite derivatives, use of waypoints and heading
11. Tides and tidal currents: definitions, levels and datum of the tides; tables, Admiralty method, corrections, tidal diamonds and atlases
12. Visual aids for navigation: lighthouses and beacons, lighting characteristics
13. Meteorology: sources of information, terms, importance and basic knowledge.
14. Pass planning: preparation of navigation plan
15. Navigation with restricted visibility: precautions and limitations
16. Piloting: transits, main lines and cleaning lines; systems, directions and plans
17. Marine environment: avoid pollution and protect the marine environment
Evaluations:
There are two assessment jobs that need to be completed:
Chartwork: Chart work skills, including position determination using various methods, course and passage planning, and tidal height calculations
Overall Assessment: Covers safety equipment and procedures, beaconing, basic radio communications, boat lights, and shape and rules of the road.
The course schedule: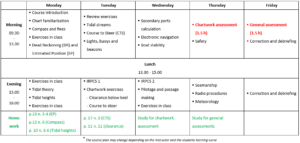 MAKE YOUR RESERVATION
It is highly recommended to take the theoretical course of Day Skipper to be able to do the practices and get your degree.
Books we recommend: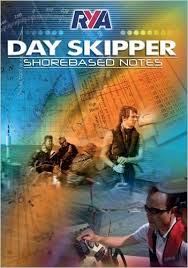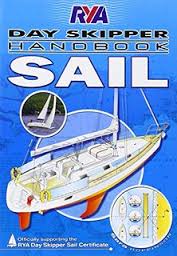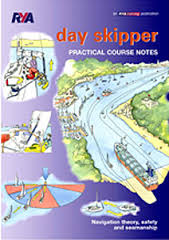 Below you can see our following scheduled courses