STCW BASIC SAFETY TRAINING
Possession of the STCW Basic Maritime Safety Training Certificate will be required for all personnel performing professional maritime duties on civilian ships, as well as those entrusted with safety or pollution prevention tasks related to the ship's operations under the Ship's Table of Duties and Responsibilities, the Shipboard Oil Pollution Emergency Plan or the Safety Management Manual.
The Basic Maritime Safety Training course trains the student in the knowledge necessary to organize and control safety and emergencies on board with the STCW95 Training Convention.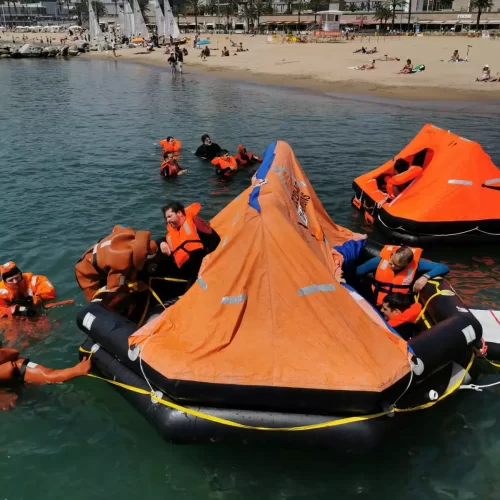 In order to sign up for the course, you only need:
DNI, NIE or Passport in force.
Age: 18 years old or 16 years old with parental permission.
The Basic Maritime Safety Training program consists of four modules:
Survival at sea in case of abandonment of the ship.
Fire prevention and firefighting.
Minimum standards of competence in first aid.
Safety at work and social responsibilities.
The program conforms to the official regulations (BOE-A-2012-3857) of March 19, 2012, in compliance with the STCW-2010 Convention Training Code, the contents of which are contained in Annex I, develops the standards of competence of Section A-VI/1.2 and Tables A-VI/1-1, A-VI/1-2, A-VI/1-3, A-VI/1-4 of the Training Code, as amended.
What is the course used for?
It is used to obtain a Certificate of Maritime Specialty granted by the Directorate General of Merchant Marine (DGMM) and endorsed by the International Maritime Organization (IMO) belonging to the United Nations.
This Certificate is based on a teaching system common to most countries, called Training Code or Convention, established in an assembly and called STCW 95.
This Basic Maritime Safety Training Certificate is the first requirement to work on a ship or any type of vessel. For the realization of a specific task we must also obtain other certificates or other nautical titles appropriate to the function to be performed.
Exclusively with this certificate and without obtaining other complementary certificates we can perform functions such as, for example:
Seaman on a fishing vessel if we also obtain the Seaman Fishermen's license.
In a Cruise we can perform different functions
Seaman without steering or engine duties on any vessel, professional vessel or ship.
To work as a helper on a boat dedicated to water skiing, diving, jet ski platforms, boats, etc...
Sailor in a Yacht Club, a Marina or a Sports Port
STCW BASIC SAFETY TRAINING
45 hours of theory
25 hours of practices
Certificate of Maritime Specialty issued by the DGMM